The corona virus outbreak caused a shortage of facemasks. Medical staff work in perilous circumstances when they don't have access to the protective equipment necessary to care for patients while staying safe themselves. We encourage everyone who can contribute to make such masks for personal use to do so.
We want to reach out to makers, companies and everyone who has access to a 3D printer or knowledge of material and supply chain management to join forces in creating an open source reusable mask with high protection qualities to spread protection gear all over the world as fast as we can.
3D printed masks with replaceable filter have the advantage that they use less of the valuable material required to protect from the virus. Moreover, many people around the world have access to 3D printers which allows them to produce locally and on-demand.
We are collaborating with several designers, companies and medical and other professionals to develop a medical proof model ADAM_V1. We do this in an open development environment by sharing our designs and knowledge. This prototype is a DIY version called ADAM_V2. We are still looking at different possible materials to use as filter, preferably EU standard EN14683. Please let us know if you know adequate materials with FFP1-3 qualifications even if they come from uncertified other domains of use.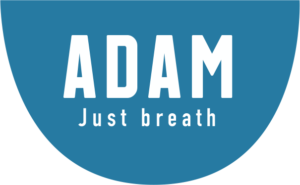 Requirements

Fitting
The mask should fit around mouth and nose without letting air through anywhere but through the filter. Think about the shape of the mask, the materials (flexibility) and how to adjust the straps for different sizes.
No air leaks: no face seal leakage, exhalation leakage and filter penetration.
Look at techniques used in plumbing and pneumatic systems.

Comfort
Both ergonomically (shape, size, weight…) and easy breathability.
Condensation from breathing may be a hindering factor. Replaceable filter: the filter must be easily replaced. Several filter materials can have a thickness up to 1 cm or even more. A closed compartment is necessary for these types. Make sure visibility is acceptable and comfort is garanteed.

Production
Try to minimize the time it takes to print parts, preferably by reducing the size and material types to a minimum. However, keep in mind lower quality and density prints may compromise safety and hygiene.
Materials
In a prototyping phase, the mechanical properties (flexibility) that suit the requirements above are most relevant. Filament printing can be used, but be aware this is only a prototype.
For medical use, materials must be able to withstand 135°C temperatures to disinfect equipment. MJM printing is required.
Materials that may come into contact with the wearer's skin should not cause irritation or present any other adverse effects to health.
Highly flammable materials should be avoided.

We are working hard on an outline of the requirement for filters. But we can use all the help possible.

This is what we are looking for:

Merv13 – MPR 1500-1900 – FPR 10
Multi-layers filters are the next step to explore and will effect the design. So stay tuned.
Principles for contributions
To make the design adjustable for different types of filter materials, we recommend working with easily adaptable parameters. Thickness but also shape may vary (some materials can't be cut with curves).
To collaborate efficiently, we communicate through a group in Slack: join the group JOGL Covid-19 and subscribe to the #proj-mask-team channel and share files on shared drive. We suggest you use the following naming system: ADAM_V1 or ADAM_V2_YYYYMMDD_ yourname.
To ensure the design can be easily spread amongst makers and designers, we work with an open source model. Make sure you use the name as specified above to show you agree with this principle. By using the name ADAM_V1 or ADAM_V2, you agree with the Creative Commons License BY-SA, so all use based on your design will be open and shareable.